The 2012 Republican Convention by Jo Freeman
Satellites and Sideshows

Conventions attract many groups which come to do something which they believe will find an audience among those attending the convention. The following are a small selection.
Women Up Pavilion
The Women Up Pavilion was open to both men and women for R&R, policy panels and media interviews. While its purpose was to make conservatism relevant to women, its woman suffrage mini-museum was the only acknowledgment that convention week began on the 19th Amendment's anniversary (August 26).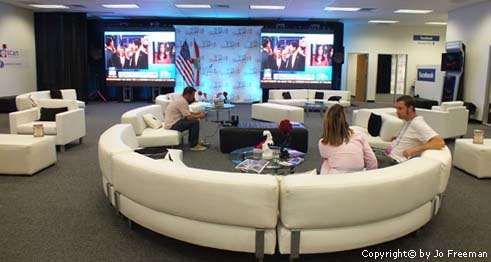 Liberty Plaza
The DNC at the RNC
Each major party gives courtesy passes to the other party's National Committee, so it's quite common to see Democrats prowling the halls of the Republican convention and vice versa. Each party also hosts an opposition headquarters in the other party's convention city, releasing its own campaign propaganda to claim a bit of the media attention that conventions generate.
In 2012 the Democrats' counter-campaign was more active.

The DNC held daily press conferences at a storefront just outside the Tampa security zone, passed out a swag bag filled with anti-Romney items and sent a billboard truck cruising through neighboring streets.
Religious groups
Republicans don't have official caucuses. Among the many special interest groups that hold their own events, religious groups have been prominent. In 2012, the Republican Jewish Coalition hosted a reception while the Faith and Freedom Coalition held an all-day meeting that was open to the public and a private reception that wasn't. Both embrace conservatism but pursue their goals differently. The RJC is primarily a lobbying group while the FFC is trying to build a grassroots organization of Christian evangelicals who will work to elect the candidates it supports. It was founded by Ralph Reed in 2009 after the Christian Coalition fell apart. Reed was the Executive Director of the CCA from 1989 to 1997.
Political Parity
The Hunt Alternatives Fund held a one-day workshop at both conventions to promote "Political Parity" – a program to bring more women into government.
Romneyville
Occupy Tampa
Ron Paul supporters
Ron Paul supporters were everywhere. Several thousand heard Rep. Paul (TX) speak at a rally on Sunday. Dozens were delegates, but not as many as they thought they deserved because some were denied credentials. Between one and two hundred Paulistas booed and shouted inside the convention when they felt they or their candidate was being slighted. They also joined in the various marches outside the convention, and greeted press and delegates with signs promoting their hero as they entered the security zone.