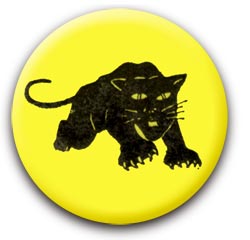 Bloody Lowndes: Civil Rights and Black Power in Alabama's Black Belt
by Hasan Kwame Jeffries, published by New York University Press; 348 pp. with maps and illustrations, © 2009

A review by Jo Freeman first published at Senior Womens' Web


In the 1960s a lot of people liked to talk about 'The Revolution' but very few actually lived it. A few thousand of those were in Lowndes County, Alabama, where the black population made a revolution, while the white population resisted.
Until 1965, African-Americans in Lowndes, a rural, backward county between Selma and Montgomery, did not openly challenge white supremacy. Although they were 80 percent of a population of fifteen thousand, they grew up knowing that whites would retaliate, often violently, to the slightest sign that they did not know their place. "Bloody Lowndes" earned its reputation.
Inspired by the winter demonstrations in Selma, on March 1, 1965, four black men made the first effort in anyone's memory to register to vote. They were turned away, but came back in greater numbers two weeks later; two of them passed the registration test.
Two days before the start of the Selma to Montgomery march 28 locals met with representatives of the Southern Christian Leadership Conference and the Episcopal Society for Cultural and Racial Unity to form the Lowndes County Christian Movement for Human Rights. They began the civil rights movement in Lowndes County.
SCLC did not return to Lowndes Co. after the march, but the Student Non-Violent Co-ordinating Committee did. SNCC applied the lessons it had learned organizing in Mississippi, but with a different strategy. Instead of organizing a Freedom Democratic Party to demand entry into the Democratic Party, it organized a third party.
In December SNCC announced the birth of the Lowndes County Freedom Organization. It's logo, required by Alabama law for each political party, was a snarling black panther. It became known as the black panther party, the forerunner of the more famous one that would be organized in Oakland, California. By then, thanks to the Voting Rights Act passed in August of 1965, African-Americans were almost half of all registered voters in Lowndes County.
On May 3, 1966 — while Democrats were nominating Lurleen Wallace for Governor — the LCFO nominated seven African Americans to run for county offices. None won that November, but they did get enough votes to become an official political party in the state of Alabama. Four years later the first African American was elected sheriff of Lowndes County.
None of this came easily. Civil rights workers were killed. Black churches were burned. Black employees were fired. Sharecroppers were evicted and forced to live in a tent city. But in the next few years, African-Americans were elected to many more offices in Lowndes County. The locus of political power shifted from white hands to black.
It didn't shift completely. One of the more powerful local whites entered into an arrangement with the new black sheriff and together they created a political machine which controlled most of the county offices for many years. Their control eventually provoked an insurgency from other blacks who wanted some of the offices for themselves.
Like most revolutions, it was incomplete. Blacks gained political power but whites held on to most economic and social power. Blacks gained control of the county school board; whites moved their children to all-white private academies. Blacks took over the county commission, only to discover that they barely had enough money to pay for essential services.
At the end of the 20th Century blacks in Lowndes were still much poorer than whites and the races were still segregated. Nonetheless, African-Americans were much better off than they had been before the revolution. Only by knowing how bad things were before 1965 can one appreciate how much had changed.
This is a very good book. It blends history and contemporary research into a story that both entertains and educates. Those who study social change and those to want to bring it about will learn much from reading about the revolution in bloody Lowndes County.