Anti- Iraq War protests on third anniversary of the invasion — March 2006 by Jo Freeman

Page— 1 2
The following week anti-war activists disrupted a meeting of the House Appropriations Committee while it discussed a $67 million supplemental funding bill for the Iraq war. The committee meeting was interrupted twice by activists who spoke out from the audience, calling for an end to the war. Some were simply removed from the hearing room and escorted out of the building, but two were ultimately arrested by Capitol Police.
On a chilly March 18 approximately 300 DC anti-war activists rallied in front of Vice President Dick Cheney's home at the Naval Observatory before walking to DuPont Circle for more speeches. Dozens of passing drivers honked in approval and gave them the thumbs-up.
Two days later the Nonviolent Campaign for Nonviolent Resistance (NCNR) [] brought 200 supporters to the Lincoln Memorial for a service of mourning followed by a walk to the Pentagon to talk to Secretary Rumsfield about ending the war.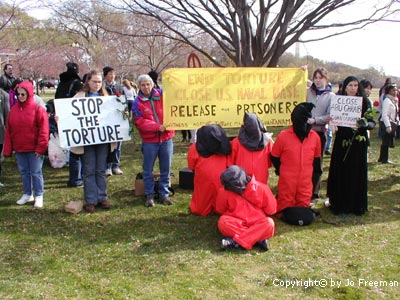 Just outside a Pentagon parking lot they were barred from entering by a newly constructed steel fence and a few dozen police. Wanting to take their message closer, 51 people went over the fence, preceded by a cardboard coffin they had been carrying to symbolize the thousands of people killed in Iraq. All were arrested.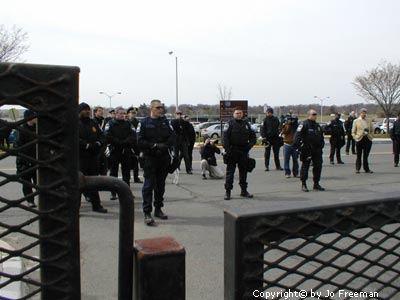 Pages— 1 2

To Top
Books by Jo | What's New | About Jo | Photos | Political Buttons
Home | Search | Links | Contact Jo | Articles by Jo