J0 FREEMAN'S CAMPAIGN DIARY
CRANSTON FOR PRESIDENT CAMPAIGN - 1984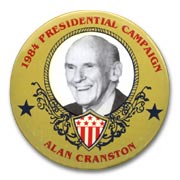 Alan Cranston was Senator from California from September 1969 to 1993. In February, 1983 he declared his candidacy for President of the United States. Jo joined his national campaign staff as Associate Political Director in September. While a student at the University of California at Berkeley, Jo had worked for Cranston when he successfully ran for state Comptroller in 1962, and first ran for the Senate in 1964. Cranston lost that primary on June 2, 1964, but was elected to the Senate four years later (when Jo was living in Chicago). The Cranston presidential campaign came in second (to Mondale) in the 1983 fundraising race, but lost badly in the Iowa caucus and New Hampshire primary.